About Unibet Poker
Most of the punters who review Unibet poker admit that it is a preferred choice for new players, due to how relatively easy it is to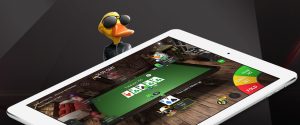 manoeuvre around, compared to other sites. Unibet poker was initially started in 1997 when the Unibet site was established, and through the years, it has undergone several changes. One of the big changes they underwent was to focus more on recreational players. In December 2016, Unibet poker adopted a brand new software called Unibet 2.0. The difference between Unibet 2.0 and the previous software, is that it runs on Adobe Air instead of the previous HTML5 which customers complained about, due to the frequency at which it would crash.
Downloading the Unibet Poker review App
For iOS devices: People who have iPhones, iPads and Apple watches can easily install the Unibet poker app directly on their phone by going to the Apple store and searching for "Unibet" and downloading Unibet poker. After downloading the app, it should be able to launch, and players can start using it immediately.
For Android users: Things might be a little different for Android users, as the Google play store does not allow gambling sites. The step of getting the Unibet poker app usually involves going to the download link directly on the Unibet site. Recently, Android has been pre-installing antivirus features which seem to quarantine downloads of the Unibet poker app. To address this, if users face a challenge, they should contact customer care, and they will get guidance on how to download the app.
Bonuses and Offers for the Unibet Poker review App
Customers who sign up for Unibet poker are entitled to bonuses and promotions. They have a welcome bonus which can go up to €200 as long as the punters keep placing their wagers. They also have cash back offers and loyalty bonuses for frequent players. To know the promotions and bonuses they can qualify for, users are expected to read the terms and conditions of the offers. Some of the popular Unibet poker promotions are a weekly sportsbook freeroll, daily freeroll frenzies, multi-table tournament leaderboards and special poker related missions.
Remarkable Unibet Poker App Features
Safe and secure gaming: To ensure that the players feel safe when using the app, Unibet has banned third-party software. What this means is that there cannot be tracking software which takes personal information from the punters using the apps.
Random seating: So that there is fairness, the Unibet poker app uses software which ensures random seating, to prevent a situation where experienced users find prime seating and use their position to win against beginners (bum hunting).
Low stakes: When comparing other sites with Unibet poker, most cash game players say Unibet offers some of the lowest levels of stakes for cash games. This means that players do not have to blow their bank accounts for them to enjoy gambling.
Several payment methods: Players are not restricted to a limited number of payment options. Users can make deposits and withdrawals through Neteller, Skrill, Visa, direct transfers, Mastercard, Entropay, PayPal and several other options. During registration, users will be given the option of choosing the payment method, which works best for them.

Customer Care Services on Unibet
Unibet is known for its robust customer care team who strive to ensure the comfort of all the players using the site and apps. If users are experiencing challenges or have questions, they can reach out through the 24/7 live chat on the site. They can also send emails or make phone calls to get prompt responses. The Q&A section also answers a lot of questions which users tend to have.
Games Found in the Unibet Poker App
At the moment, Unibet poker is offering "Pot Limit Omaha" and "No Limit Texas Hold'em" cash games. They also have sit-and-go tournaments and multi-table tournaments. In the "fast-fold" poker variant, they have Banzai. An interesting addition to their list of games is "Fast Poker", where players are pushed to another table to face new opponents whenever they fold.
Software and Design
Unibet poker can be accessed on phone, PC or using the app. The fact that Unibet has expanded the possibilities on the platforms under which they operate makes them popular. They have gone ahead and ensured that their design and interface is appealing to users. It only takes a few clicks for punters to be able to access the site. The process of registering is self-explanatory, and once they are in, players can then use the many well-designed themes. The themes allow the players to virtually transport themselves wherever they want to be. Whether they want to join a table hockey table, sit on a magic carpet or play at a railway, some designs allow them to do this. They also have avatars for people who want to be geeky.
Pros of the Unibet Poker App
Has free welcome bonus for beginners and no deposits are necessary.
Neat and fun software which allows 3D graphics.
Fast deposits and withdrawals when playing.
Big options of tournaments and games.
Can be accessed on the browser if the app has a downtime.
Freeroll entry for beginners is competitive compared to other gambling sites.
Fully licensed and regulated as an online gambling site.
Is audited regularly by e-commerce online gaming regulations and assurance.
Dedicated to ensuring fairness during play.
Cons of the Unibet Poker App
Available only for iOS and Android users.
The sports options are limited.
The Verdict on the Unibet Poker App
The possibility of playing the game and monitoring how things are unfolding while users are on the go is one of the reasons why the Unibet poker app comes highly recommended. The sleek design, which is easy to use, and the regular bonuses that are given to punters, also attracts several players. Other than a few things that need to be improved, such as the variety of sports options available, the Unibet poker app is one of the best apps in the industry.