About Unibet Poker
Poker lovers have a reason to celebrate with the many features which are available on Unibet Poker. They also have an app that was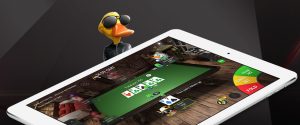 established in 2005 and has been growing in popularity over the years. One of the reasons why Unibet Poker is popular is because of the security and fairness it gives punters. It has a license from the renowned Malta Gaming Authority (MGA) and the UK Gambling Commission (UKGC).
Unibet Poker is available on both mobile and computer. It is also downloadable as an app.
Unibet Poker on Mobile
Unibet Poker is available on mobile by directly searching the site and clicking on the mobile link or by downloading the app. The app is free, and the process of downloading Unibet Poker is stress-free.
Downloading Unibet Poker on Apple devices:
For people who have iOS devices, the Unibet Poker app is available in the Apple app store. Users should register with Unibet, then go to the app store and search for Unibet Poker.
From there, they should click on the download icon and the app will be downloaded into their phones.
Once the app is downloaded, it can then be installed into the phone and users can start playing immediately.
Downloading Unibet Poker on Android devices:
The process is not the same for people who own Android devices. Since Android devices do not have betting apps in their store, users have to go directly to the Unibet site to download the poker app.
After registration to the site, users should use their mobile search engines to find the Unibet site. Once they have the link, they should be able to find the Unibet Poker app. They will, however, need to click on the settings and change them, so that their devices can allow downloads from unknown sources. Of course, they should remember to switch back to the original settings after they have downloaded the app so that their phones are not vulnerable to malicious attacks from external sites.
Playing on Unibet Poker
Unibet Poker has many loyal customers due to the big betting market, which they have. Some of the attractive points for Unibet Poker players are:
Cash games: Unibet Poker is a pleasant haven for users who want to play Banzai, Omaha and Texas Hold'em. The advantage of playing on Unibet Poker is that players have fun as they play their games. An added benefit to this is that players are allowed to have up to five identities. This means that they can play the games without their competitors figuring out who they are. This also increases the fairness in the game.
Unibet Poker Sit n' Go: The poker game of Sit n' Go has a shorter period when users sit and wait. All that players need to do is click on the "Join" icon, and they will be immediately seated at a table for the game to begin. The fact that the site is neat and easy to navigate is an added advantage.
Unibet Poker multi-table tournaments: Some of the games in this section are Deepstack, Sundown and Omaha. Although users may not find as many multi-table tournaments as there are on other betting sites, the options they have are top-rated among users. They also have bonuses and promotional offers which can be redeemed during multi-table games.

Pros of Unibet Poker
The interface is easy to use, so even beginners can easily navigate around the site and find the features they are looking for. Whether using a computer or mobile, the interface is neat.
There is security for the users during their games and when making transactions. They have encrypted protection to ensure that the personal information added by users is not accessed by a third party.
They use "random seating" software that places users on the poker tables to avoid a situation where experienced players deliberately seek seats that will put them with beginners. The app ensures fairness and prevents the chances of users having an unfair advantage over their competitors.
Payments can be made using a variety of options such as direct bank transfers, PayPal, Skrill, Neteller, Visa and Mastercard, among other possibilities.
It can be accessed on mobile devices through an app and direct link. This makes it convenient as users can play on the go.
They use the latest gaming software which replaced the old one that they were previously using. The old software had a lot of issues that would slow down the game and make users uneasy, leading to low reviews. Their latest software operates on Adobe Air which is lighter and faster, making Unibet Poker more fun to play.
They have a variety of games that are ideal for recreational play; hence, it is a preferred choice for people who want to relieve stress.
They showcase live games so that users can bet on the games as they happen.
Their customer care system is reliable. They have a live chat option for people who want to engage the customer support service 24/7. They also allow users to send their queries and concerns by email or through phone calls.
Cons of Unibet Poker
Their tournament schedules are not as massive as what users can find on other online betting sites.
Their graphics are extreme and this can put off someone who wants a simple look away from the bold colours and images the site uses.
It sometimes takes longer to withdraw payments from the site.
Conclusion and Verdict on Unibet Poker
Many things stand out about Unibet Poker, including the fact that users are seated randomly so that nobody has an unfair advantage over others. The fact that users are allowed to use real money when playing and withdraw real money is a motivating factor for many people. Since the bets can be made on the move through Unibet mobile, users do not have to go to a casino anytime that they want to play, making it very popular among punters. Unibet Poker is rated highly in the world of betting sites.